The iconic "Pink Pig" livery for an iconic Porsche.
If you are familiar with Porsche history you may recognize this iconic livery depicting a "Pig ready for slaughter". If not, allow me to take you back in time to 1971, and to the prestigious 24 hour endurance race known as Le Mans. Originally depicted on the Porsche 917/20, and later used on the 2018 Porsche 911 RSR, this now legendary livery supposedly started as a mere joke. Due to the 917/20's odd but effective combination between the 917 K and L aerodynamics, Porsche ended up with a wide  snouty front end and a stubby rear end, much like that of a pig. Rumor has it, this livery was born from the sponsors dislike of the cars appearance and would not use their iconic red and blue livery. Instead Porsche designer Anatole Lapine let loose with spray cans and decals, thus the "Pink Pig" livery was born. The designated drivers Willi Kauhsen and Reinhold Joest went on to win the GT class.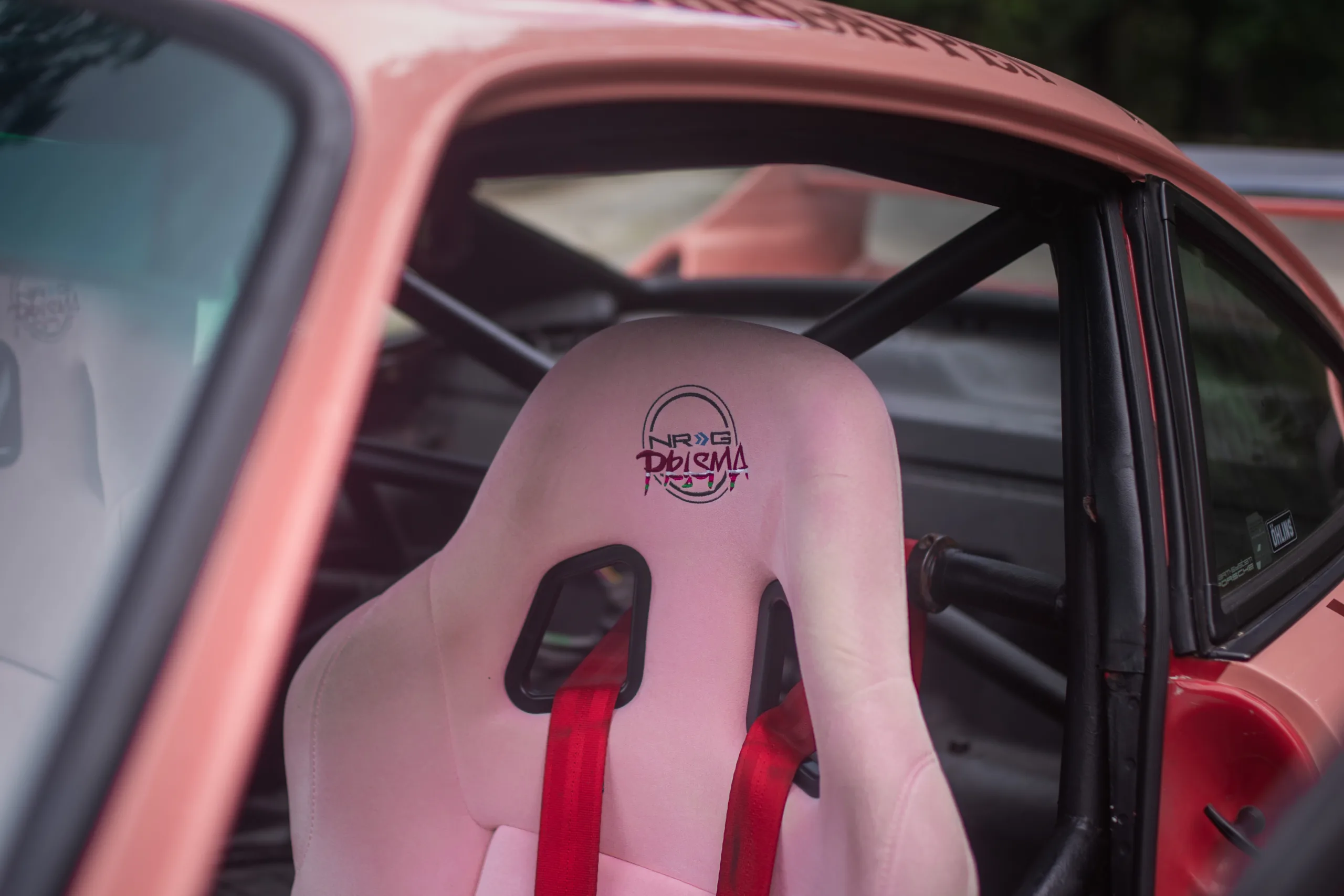 Air Cooled And Track Oriented
Although many see this car as a collectors item, Chandler bought this beautiful example of the Porsche 911 specifically to drive it. Every detail on this car was custom built to spec for racing on the track. The GT2 center lock wheels wrapped in Toyo r888r's, paired with the Sunburst wide body kit presents an aggressive grip stance and an awesome appearance. Combined with performance parts such as high end Heim joints, Stainless braided lines, Motion Control remote reservoir coilovers, an LSD, an Aftermarket fuel cell, NRG Prisma Bucket seats, a 6 point Schroth harness, and a custom roll cage make for peak drivability, control and most importantly safety.
Form and Functionality
As I previously mentioned, this car was not built just to look cool, but also to function. The beauty of the Sunburst kit is in the functionality. Chandlers favorite detail on the car is hands down the unique looking wing, which serves both aerodynamics and as the intake to the air cooled drive train. The wing keeps the car cool, stylish and planted on the road. Additionally, the wide fenders provide more room for the super meaty 335/30zr18 Toyo R888r's in the rear. They not only look sweet, but also allow the car to stay gripped up while taking corners at a higher rate of speed. The center lock wheels are usually provided with the kit. While adding cool points, they also enable faster pitt times by reducing time spent swapping wheels mid race. Chandler does not have a lap time set yet, however he does intend to get this beautiful 911 out onto the track soon to lay down some raw performance driving, while also turning heads and setting new personal bests!