Nine-Six-Four
In 1989 Porsche came out with the 911 Carrera 2 (964). The new 911 was a contemporary take on the classic two-door sports car and came at a time when many were predicting the end of the 911 (the company was producing the 944 and working on the upcoming 968). The long run of the previous 911 meant the 964 needed a major update and Porsche delivered on that promise with 85% new components and virtually none of the predecessor's architecture used. The 964 Carrera was the last generation sold with the traditional removable Targa roof until the 2011 991. A new naturally aspirated engine called the M64 was used for 964 models, with a flat-6 displacement of 3.6 liters. Porsche substantially revised the suspension, replacing torsion bars with coil springs and shock absorbers. Power steering and ABS brakes were added to the 911 for the first time; both were standard. The exterior bumpers and fog lamps became flush with the car for better aerodynamics. A new electric rear spoiler raised at speeds above 50 mph and lowered down flush with the rear engine lid at lower speeds.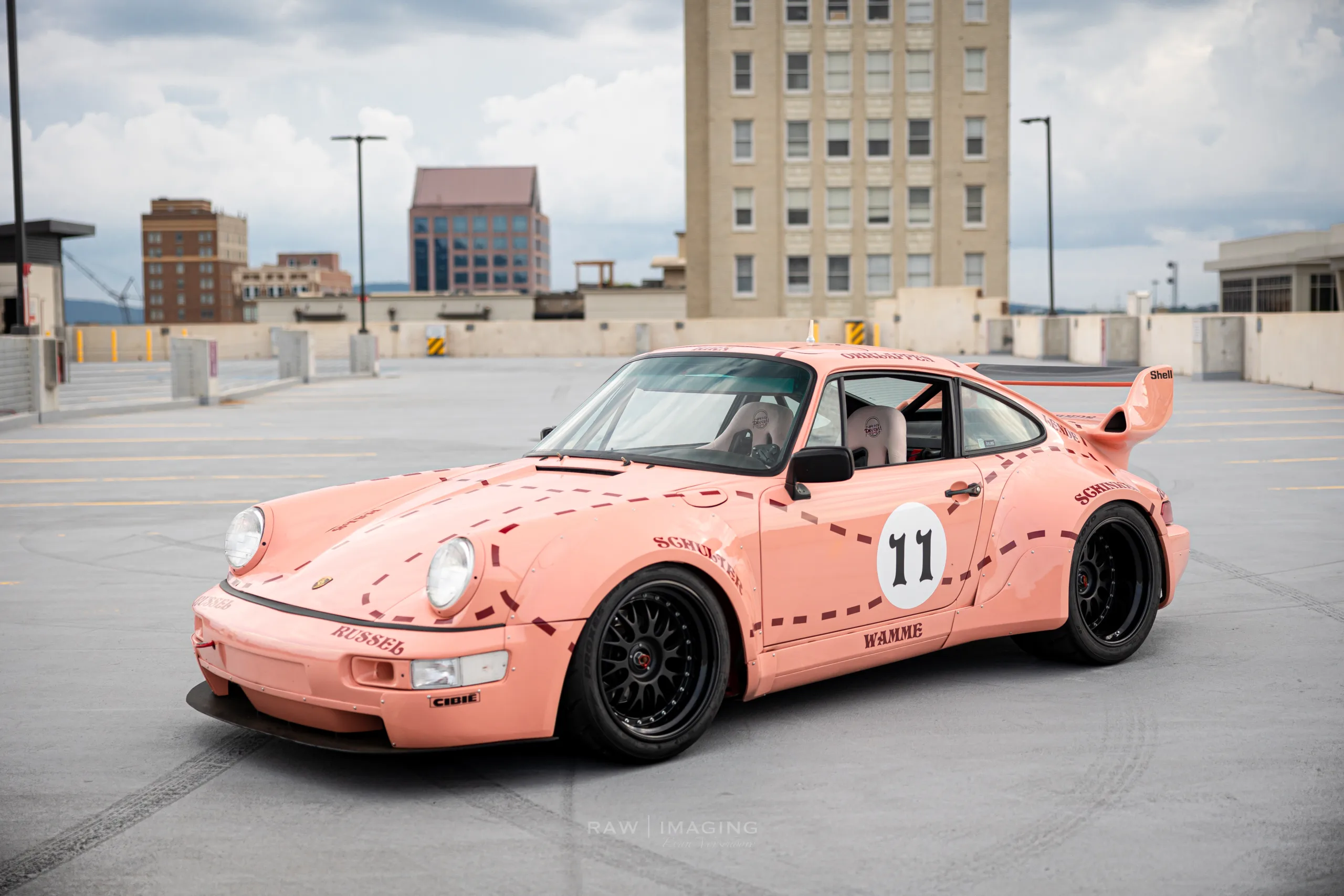 When Pigs Fly
Proof that the Germans have a sense of humor, the Pink Pig livery is one of the most iconic Porsche 917s of all time. Originally called the "Trüfel Jäger von Zuffenhausen" (the truffel hunter from Zuffenhausen) the Porsche 917/20 participated in just one race. It succumbed to an accident in the 12th hour of the 24 hours of Le Mans in 1971. While it may have had a short run on track, it lives on in the hearts of motorsport fans all over the world. Throughout the years, there have been companies like Liberty Walk and Rauh-Welt BEGRIFF that retrofit these Porsches to give them a more aggressive look. One company (Sunburst 911), however, has been flying under the radar for a while. They create their own spin on the porsche's they create including replicating the infamous 'Pink Pig' livery. Truffelhunter of Zuffenhausen's baby brother, if you will.
100% Pork Guaranteed
Chandler's kitted Porsche 964 is a major head turner in the automotive world. This 1990 964 Carrera 2 sports a 3.6 liter air-cooled rear-engined piece of machinery putting down 261 brake horsepower and 229 lb-ft of torque all weighing just shy of 2,500 lbs. The car was also retrofitted with a Sunburst wide-body kit and wrapped in the ever-so-loved 'Pink Pig' livery. This 964 comes fitted with a full roll-cage but remains street legal. It also has a RaceQuip Track computer installed and 3-piece track wheels with the mono-bolt wheel locks. Chandler's ride speaks of much built-up Porsche history embodied in a butcher's cutting pink dress, ready to drop some jaws and sing the song of its people.