Through Time, A Star is Born
Back in 2004, Acura introduced the Acura TL which came with a stout amount of power and bells and whistles for the time. Acura eventually introduced an A-Spec edition, which didn't add any extra power, but did include a better aero kit, bigger wheels and stickier tires to get the max amount of joy out of the car while keeping the luxury brand in tact.
Fast forward 14 years and Acura got the itch once again to rekindle the flame of the fun luxury car. This is where the Acura A-Spec TLX was born.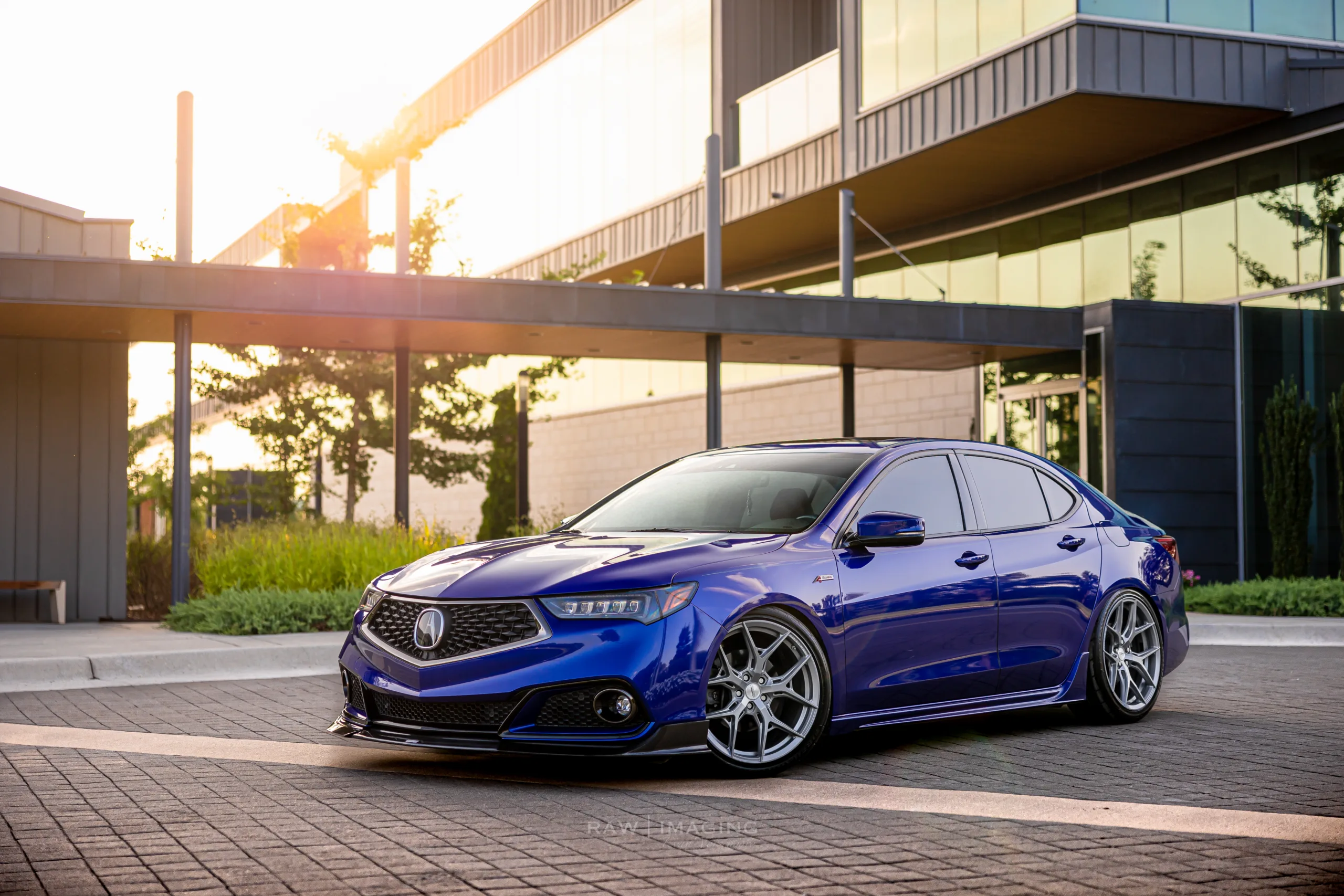 An Eye-Catching Sport Sedan
The Acura A-Spec TLX is a combination resurrection of the TL and the TSX. There is something special about that electrifying "Still Night Blue Pearl" color sported on the newer A-Spec TLX's. Between the outspoken color and the aggressive body lines, this car turns some heads out and about.
Paired with the red leather bucket seats which hug you around a corner, the SH-AWD (Super Handling All-Wheel Drive) handling and traction system which keeps the car planted on all four wheels and the naturally aspirated V6 making 290 horsepower; this car can handle its own on the road and in the parking lot.
One of a Kind
Virginia's 2018 Acura A-Spec TLX is a unique build that speaks the personality of its owner. The TLX has an aggressive look, paired with an aggressive sound when you pin the pedal to the floor. Her car sports an ever-loved set of custom built 20″ Vossen HF-5 wheels, all wrapped in a square set of 255/35 R20 Firestone Firehawk Indy 500 tires.
Other mods include a G4werkz carbon fiber front lip kit, BC Racing Coil-overs and and a very boisterous AEM intake system which lets you know when they're coming. Future mods include a WC Carbon M Style trunk spoiler, side skirts and WC Carbon rear diffuser, a K-Tuner Flash V2 tuner and a custom built exhaust.